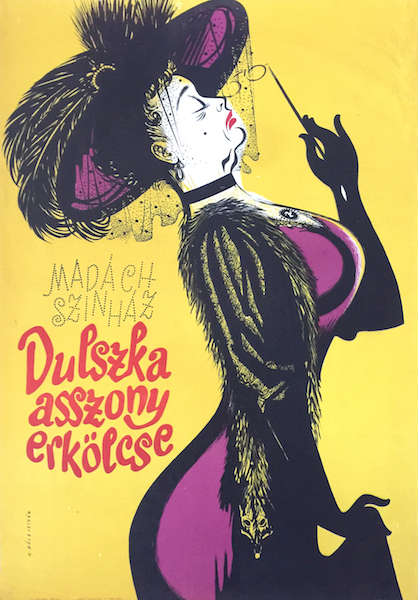 The Morality of Mrs. Dulska
Hungarian title:
Dulszka asszony erkölcse - Madách Színház - Rendező: Horvai István - Főszerepben: Dayka Margit
Size:
A1 1 Sheet (cca. 84 x 59 cm)
Condition:
Fine, light wear and creasing.
Material:
Paper, offset lithography.
Price: US$1200
Description:
The Morality of Mrs. Dulska (Polish: Moralność pani Dulskiej) is an original 1955 vintage Hungarian theatre poster designed by Istvan Kopeczi Bocz.
The Morality of Mrs. Dulska (Polish: Moralność pani Dulskiej) is a play by Gabriela Zapolska that debuted in Kraków in 1906. Hailed as a key work in early modern Polish drama, Zapolska's play tackles issues of social justice, socialism, morality, conscience, and the performative duality of social identity.
It has inspired many film adaptations and has appeared on stage in many forms, even as a musical comedy. Mrs. Dulska's view that "a secure living is the base of life... And as for a husband, you can train him" perfectly encapsulates the elements of bourgeois realism employed by Zapolska to bitingly skewer the inadequacy and hypocrisy of bourgeois life.
As dramatist Alan P. Barr notes, "The Morality of Mrs. Dulska belongs to the social-protest literature that irritated the conservative sentiments of turn-of-the-century Europe". Zapolska's best known work, the enduringly popular play utilizes satiric wit to address the middle-class sensibilities of turn-of-the-century Galicia. (source: wikipedia.org)