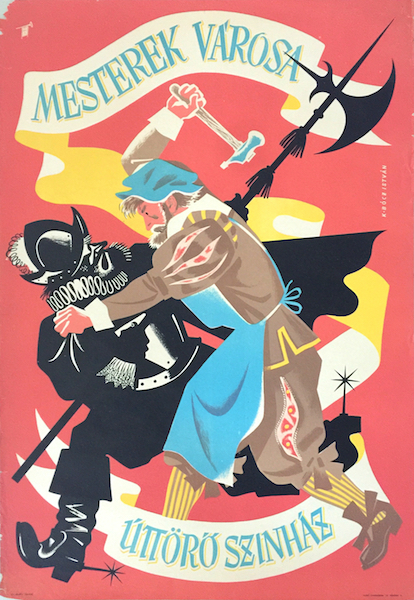 The City of Masters
Hungarian title:
Mesterek városa - Úttörő Színház - Rendező: Both Béla, Kende Márta - Bemutató: 1952.04.24.
Size:
A1 1 Sheet (cca. 84 x 59 cm)
Condition:
Very good, some paper loss at the corners, light wear.
Material:
Paper, offset lithography.
Price: US$1200
Description:
The City of Masters is an original 1952 vintage Hungarian theatre poster designed by Istvan Kopeczi Bocz, advertising a play written by Tamara Gabbe.
The original title is Gorod Masterov, ili, Skazka o dvukh gorbunakh (Город мастеров). The free medieval city with the majestic castle, the picturesque market square and cozy houses is conquered by troops of the spiteful knight de Malicorn. The mean tyrant dispatches spies everywhere, hires informers and is going to marry the first beauty - Veronika with distinguished shape of Marianna Vertinskaya. But the freedom-loving humpback Karakol to whom disposal of a hump and a wedding with Veronika is predicted brings together the humiliated inhabitants on fight against conquerors. (source: imdb.com)
Tamara Grigorievna Gabbe (1903-1960) was a Russian writer, translator, folklorist, playwright, editor-in-chief, literary critic and author of many popular fairytale plays for children, the most popular of them being The City of Masters. She was born in Leningrad and studied in the History of Arts Institute. She dreamed of becoming a teacher and founding her own democratic good school, but accidentally started to work in the children's state publishing house Lenizdat headed by S.Y. Marshak at that period.
She became one of the founders of new Soviet literature for children, edited manuscripts of beginning writers, searched for people to work over books for children and became a true friend and assistant to S. Y. Marshak for good. In 1937 the editorial office of Leningrad Detizadat was destroyed and ceased to exist, a part of the staff was fired, whereas others were arrested including Tamara Gabbe. Soon, thanks to Marshak, she was released. (source: https://russkiymir.ru/en/news/238977/)