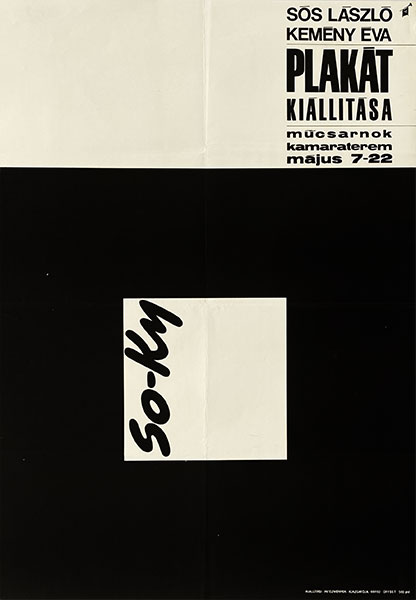 Poster Exhibition of So-Ky at Kunsthalle
Hungarian title:
So-Ky plakát kiállítása - Műcsarnok
Size:
B2 (cca. 70 x 50 cm)
Condition:
Fine, fold marks, light wear.
Material:
Paper, offset lithography.
Price: US$600
Description:
Poster exhibition of So-Ky is a 1966 original vintage Hungarian event poster that promoted the poster exhibition of So-Ky (Sós, László - Kemény, Éva), an artist couple.
An artist couple who have been working together since the beginning of the 1950's, they were highly effective and convinced propagandists for the socialist system. In addition to political posters, they worked in every field of visual communication.
Their posters represent the typical visual culture of the 1960's, illustrating a style known today as "retro" or socialist modernism that defined the furniture, architecture, and graphic design of the period. After the decline of mandatory socialist realism, a new trend became influential. It combined typical socialist subjects (the life of workers, factories, family, agriculture) with a modern attitude and style: they have used a style close to constructivism. This tendency, now called soc-modern, became significant in the eastern bloc in the 1960s. So-Ky used several techniques, like paper cut, drawing, photo, photomontage and they often have used only clear typographic design. For their political posters they use simple but effective forms and symbols, sometimes without any text. For example, the red sickle and hammer and ripped barbed wire stand together for the "liberation" of 1945.