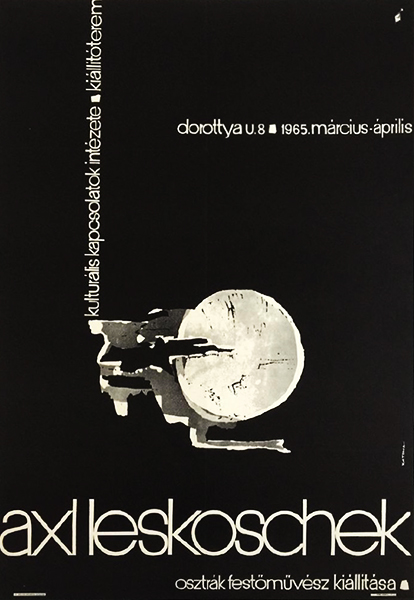 Exhibition of Axl Leskoschek Austrian painter
Hungarian title:
Axl Leskoschek osztrák festőművész kiállítása
Size:
B2 (cca. 50 x 70 cm)
Condition:
Fine, fold marks, light wear.
Material:
Paper, offset lithography.
Price: US$240
Description:
Original vintage Hungarial minimalist exhibition poster for an Austrian painter, Axl Leskoschek by Laszlo Katona from 1965.
Axl Leskoschek (1889 - 1976) was one of a group of foreign artists who took refuge in Brazil as a result of World War II and the rise of Nazism. The arrival of these artists and their impact on the Brazilian artistic milieu marks a decisive moment in the nation's visual history. Born in Graz, Austria, Leskoschek studied at the Graz School of Fine Art and later the Vienna Graphic Arts School. Fleeing the Nazis, he traveled first to Switzerland and finally arrived in Rio de Janeiro in late 1939 where he remained until 1948. During those years he worked as a book illustrator, interpreting classic and modern works of Brazilian and Portuguese literature for Livaria e Editor- ia José Olympio. He became famous for his illustrations in the Brazilian editions of Dostoevsky's novels. A prominent teacher, Leskoschek established a course in advertising design and graphic arts. (source: luag.org).