Katona László
1927 -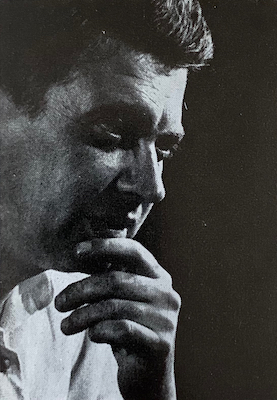 Laszlo Katona
Laszlo Katona, an important Hungarian poster artist is mainly known for his outstanding work in the field of exhibition and festival poster design. His experimental posters mostly utilize geometric shapes, photomontage and typographic elements.
In the early 1950s, he studied at the Art Gymnasium in Budapest under György Z. Gacs, Andor Kantor, Jozsef Vertel. In the late 1940s, he worked at the Széchényi Library and from the early 1950s he was a graphic designer of the National Center for Museums and Monuments. He was involved in organizing museum exhibitions, and later designed a huge number of exhibition posters, catalogs and art publications related to the fine arts.
It is characteristic of his work that he always identified himself with the subject and subordinated his own artistic means to the most successful presentation and presentation of the exhibition material. His works utilize the many possibilities of applied graphics - ttypography, geometric shapes, collages, photomontage, reproductions,color compositions, and one of the most important means of communication, the letter - in a stylistic adaptation to the material being presented. He was one of the most exciting typographers in Hungarian graphic design.
He worked as a designer for Hungarian Museum of Fine Arts, the Mucsarnok or Kunsthalle in Budapest and major national exhibitions in cities such as Hodmezovasarhely, Miskolc, Szekesfehervar, Sopron.
Available posters by this artist