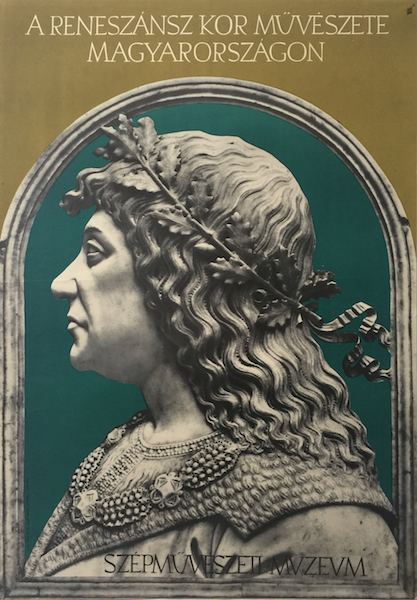 The Art of the Renaissance in Hungary exhibition - Museum of Fine Arts
Hungarian title:
A reneszánsz kor művészete Magyarországon - Szépművészeti Múzeum
Size:
A1 1 Sheet (cca. 59 x 84 cm)
Condition:
Fine, light fold marks and wear.
Material:
Paper, offset lithography.
Price: US$400
Description:
The Art of the Renaissance in Hungary is a 1964 vintage Hungarian exhibition event advertising poster designed by Laszlo Katona.
The poster uses the statue of King Matthias, also called Matthias Corvinus, or Matthias I (Hungarian: Hunyadi Mátyás, 23 February 1443 – 6 April 1490). He was the King of Hungary and Croatia from 1458 to 1490. After conducting several military campaigns, he was elected King of Bohemia in 1469 and adopted the title Duke of Austria in 1487. He was the son of John Hunyadi, Regent of Hungary, who died in 1456. In 1457, Matthias was imprisoned along with his older brother, Ladislaus Hunyadi, on the orders of King Ladislaus V of Hungary. Ladislaus Hunyadi was executed, causing a rebellion that forced King Ladislaus to flee Hungary. After the King died unexpectedly, Matthias's uncle Michael Szilágyi persuaded the Estates to unanimously proclaim Matthias king on 24 January 1458. He began his rule under his uncle's guardianship, but he took effective control of government within two weeks.
Matthias patronized art and science; his royal library, the Bibliotheca Corviniana, was one of the largest collections of books in Europe. With his patronage, Hungary became the first country to embrace the Renaissance from Italy. As Matthias the Just, the monarch who wandered among his subjects in disguise, he remains a popular hero of Hungarian folk tales (source: wikipedia.org). This is the reason for using his portrait for promoting a Renessaince exhibition.