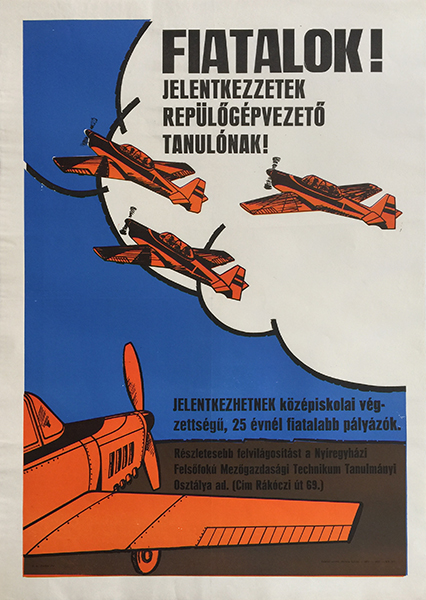 Youngsters! Apply to become a student pilot!
Hungarian title:
Fiatalok! Jelentkezzetek repülőgépvezető tanulónak!
Size:
B2 (cca. 50 x 70 cm)
Condition:
Fine, light fold marks and wear.
Material:
Paper, offset lithography.
Price: US$1600
Description:
Propaganda poster to call young people to apply to the airplane pilot school. The poster tells that application is available for high school graduates under the age of 25. The smaller letters explain that further information coould be received from the Agricultural Technical School of Nyíregyháza.
The colours and the construction of the composition bear the characteristics of pop art: the stylized cartoon like image, the strong, thick, black contours and the vivid blue and orange shades contribute to the pop art look. The poster depicts three airplanes in front of the sky that consists of the stylized image of a cloud on the blue background. The fourth plane haven't taken off yet, probably the teacher is sitting in it, watching the students do their job.