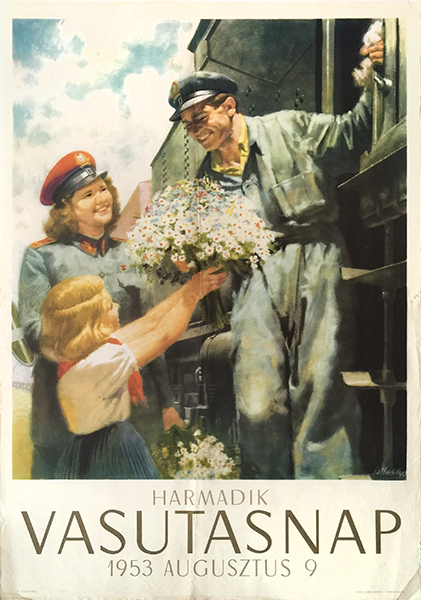 Third Railwaymen's Day
Hungarian title:
Harmadik Vasutasnap 1953
Size:
A1 1 Sheet (cca. 84 x 59 cm)
Condition:
Fine, fold marks, small tears and holes.
Material:
Paper, offset lithography.
Price: US$2000
Description:
Typical socialist realist propaganda poster from the first years of the 1950s. It promoted the Third Railwaymen's Day.
The event was initiated by the political leadership in 1951 to celebrate the workers of railway, however in reality the Railwaymen's Day was part of a propaganda activity which was organised around the industry to distract workers from the poor economic conditions and circumstances under which they were forced to work.
The poster was designed by Győző Szilas, an important graphic artist of the post-war period in Hungary. Szilas began his career in the 1940s when he created Art Deco-influenced advertisements for large companies. In the 1950s his posters employed the official socialist realist character with the artificial scenes, typified characters and realistic style which was expected in the era.
This piece is a good example. It depicts an unspontaneous scene with a smiling male railwaymen figure getting off a train while he is given a bunch of flowers by a young female figure. Another, adult female figure is standing next to them and is looking happily at the man. The adults are both in a railwaymen uniform with socialist symbols on it and the child is wearing a blue skirt, a white shirt and the characteristic red neckpiece of the period. The dark, metal machine behind the man and the calm, blue sky with clouds appears as an idealized environment. The pretended cheerful atmosphere, the painting-like portrayal, and the ceremonial atmosphere which can be seen here are typical features of the socialist realist posters. It is also remarkable that the composition can be considered as a family scene as well, not only based on its characters, but also given by the genre-painting character of the design. In any case, it is obviously shown that in the first place the male figure is celebrated, even though the female figure is also a railwayman.
Anita Pásztor
(source: Levente Nagy: Vasutasok az 50-es években – marcarchiv.hu)