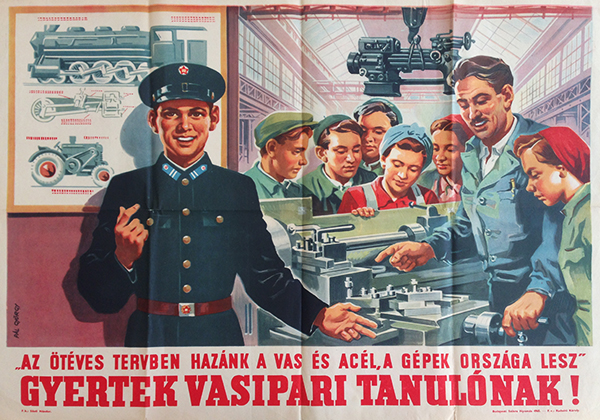 With the 5 Year Plan, we will become the country of iron, steel and machinery, become a steel worker!
Hungarian title:
Gyertek Vasipari Tanulónak! Az ötéves tervben hazánk a vas és acél, a gépek országa lesz.
Size:
A1 1 Sheet (cca. 59 x 84 cm)
Condition:
Very good. Fold marks, tears along the borders and small paper loss along the lower border. Two holes at the meeting of the fold marks fixed with tape.
Material:
Paper, offset lithography.
Price: US$1200
Description:
Propaganda poster for popularizing the Five-Year Plan. The text at the bottom says the following: "Our homeland will become the country of steel, iron and machines with the five year plan. Become a steel industry student!"
After the Second World War the socialist regime completely the economy of Hungary, the socialist government had seven five-year plans within 20 years (besides a one-year and a three-year plan). These plans were all made with the goal of economic growth but it's needless to say that the forced industrialization and the actions related to agriculture caused more damages to the economy than good. According to the socialist plan Hungary was subject to a transformation to industrial country.
As all socialist-realist posters, this one also shows very joyful characters, everyone is smiling, everyone is happy with the new economy system brought by socialism. The whole image is idealistic with the neat students willing to learn each and every word said by their master. The poster was designed by György Pál who created many propaganda posters during the Socialist era. This composition has six children in the background listening to the explanation of their teacher in the factory. In the foreground there is a smiling worker wearing a socialist uniform standing in front of a chart that displays machines. This was intended to make people associate with the idea that it was socialism what brought a large industrial development to the country. Another similarly constructed poster for propagating the five year plan can be found on this link.