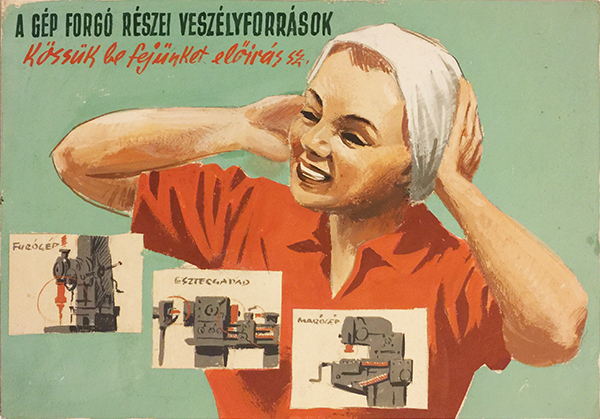 Operating machinery is dangerous cover your head
Hungarian title:
A gép forgó részei veszélyforrások - kössük be fejünket előirás szerint
Size:
A4 (cca. 29 x 21 cm)
Condition:
Fine, light wear.
Material:
Paint on cardboard.
Price: US$800
Description:
Mátyás Gaál was a poster designer, graphic artist and important poster collector. active between the late 1930s and the 1970s. He designed playful, decorative compositions for commercial posters in the 1940s and 1950s, but he also created flyers, exhibition designs, emblems, and many other works.
This painted poster maquette was designed by him for a safety propaganda poster in 1953. Its graphical character fits the period, as it followed the rules of, as it is a good representative of the socialist realist design of the time. Socialist Realism was the key tool of the Hungarian political dictatorship in their extensive propaganda activity in the first part of the 1950s, just as in other Eastern-European countries in the Soviet Union. As other artists, poster designers also had to meet the requirements of a socialist content and a realist manner.
Work safety propaganda posters were pretty common as the political party paid a great attention to the education of the working class. Hence, numerous safety propaganda posters had the same slogan and lookout. The slogan of this poster mockup is also familiar: 'Operating machinery is dangerous, follow the regulations and cover your head'. It contributed to the major message of the propaganda works, that obeying the rules is important. The composition of this piece is typical, too: it captures a smiling, working class women in red shirt and white headscarf in a painting-like realist portrayal against a greyish green background, with several little images of machinery afore.