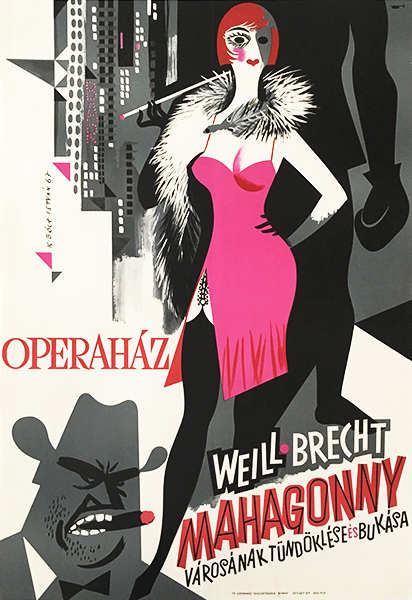 Rise and Fall of the City of Mahagonny
Hungarian title:
Mahagonny városának tündöklése és bukása
Size:
B2 (cca. 70 x 50 cm)
Condition:
Fine, light fold marks and wear.
Material:
Paper, offset lithography.
Price: US$600
Description:
Hungarian poster of the political-satirical opera 'Rise and Fall of the City of Mahagonny' designed by Istvan Kopeczi Bocz.
It was written by Bertold Brecht and composed by Kurt Weill. It was played in the National Opera House of Hungary in 1967. Mahagonny's back history is complicated. Its origins lie in a half-hour concert cantata Mahagonny Songspiel ("sung play"), in which Weill set a selection of Brecht's poems about Mahagonny, a fictitious city in the American West presented as a modern Sodom and Gomorrah, destroyed by its worship of graft and fraud, whisky and dollars. (source: telegraph.co.uk)
The poster is an outstanding piece by István Köpeczi-Bócz. The artist first worked on stage designs for various theaters in Hungary, and he also designed puppets for puppet theatres. Köpeczi Bócz was a versatile talent: he created posters, advertisements, illustrations, stamps, caricatures, stage designs. He later worked in the Hungarian film and television industry, and as a goldsmith as well. In the 1960s he designed a great number of theatre and movie posters. His works are characterized by his playful and humorous attitude: he used funny characters in colorful compositions.
This piece is playful thanks to the two main humorous, cartoon-like figures. The attractive female figure in flashy, glorious clothing, accessories and make-up immediately catches attention, while she also adds a bohemian character to the image. The caricaturistic male figure's face is placed in the lowe left corner with harsh facial expression and aggressive outlook. The background depicts a big human-shaped shadow and metropolitan-like neighbourhood. The design cleverly integrates the shady underworld hiding under the attractive and glamorous surface into one composition. A very exciting piece.