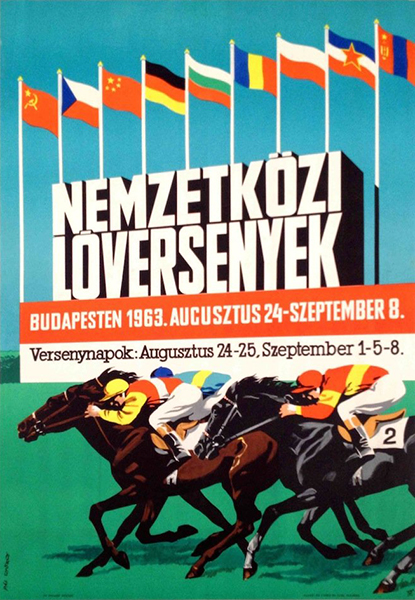 International Horse Races in Budapest 1963
Hungarian title:
Nemzetközi Lóversenyek - Budapesten 1963. augusztus 24 - szeptember 8.
Size:
A1 1 Sheet (cca. 84 x 59 cm)
Condition:
Fine, light fold marks and wear.
Material:
Paper, offset lithography.
Price: US$800
Description:
International Horse Races in Budapest is a 1963 vintage European sport poster from Hungary designed by Gyorgy Pal.
The main motive of this poster is motion and speed. The jockeys are riding their horses, their posture and the hair of the horses shows how fast they are. In the background the flags of the countries participating in the competition are displayed. The style of the composition is typical of the period and was perfect to promote a sport event. The author of the poster, György Pál mostly designed propaganda posters in the 1950s in the obligatory socialist-realist style. His favourite topics included sports, so this piece was created with great enthusiasm due to the theme and the fact that by the 1960s artists got more freedom, therefore posters created in that period had great artistic values.
Signed: 'Pál György', bottom, left side. Publisher information: Budapest, Polgár József, 1963, Plakát és CímkeNy., 3600 copies.