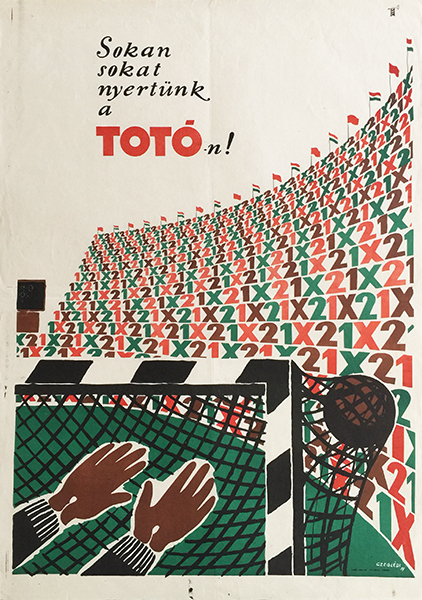 Many of us have won a lot with Football pools!
Hungarian title:
Sokan sokat nyertünk a TOTÓ-n!
Size:
B2 (cca. 70 x 50 cm)
Condition:
Fine, fold marks.
Material:
Paper, offset lithography.
Price: US$1200
Description:
The poster advertises a national gambling service, TOTO. This was the most common sports betting game in Hungary that has been existed since 1947 until today. The popular emblem of the pool is the red volleyball head with the "TOTO" letters. Soccer always has been the most popular sport in Hungary. The country has a respectable football history, having won three Olympic titles, finishing runners-up in the 1938 and 1954 FIFA World Cups, and third in the 1964 UEFA European Football Championship. Hungary revolutionized the sport in the 1950s, laying the tactical fundamentals of Total Football and dominating international football with the remarkable Golden Team which included legend Ferenc Puskás, top goalscorer of the 20th century. (source: wikipedia.org)
The design is very decorative, created in the cartoon-like style commmon in the late 1950s and 1960s. The contrast between the squared goalpostand the cambered line of the stadium assigns dynamics to the composition. The most dominant colours on the poster are red, white and green, the Hungarian tricolour. The artist depicted a moment of the game, when the goalkeeper almost catches the ball. The audience is not made of actual characters, but numbers 1 2 and X. These are the numbers one uses when playing the football pool. They appear on other posters as well, such as Direct hit, by Endre Bánó. The text on teh top says that Many of us has won a lot with sports betting.