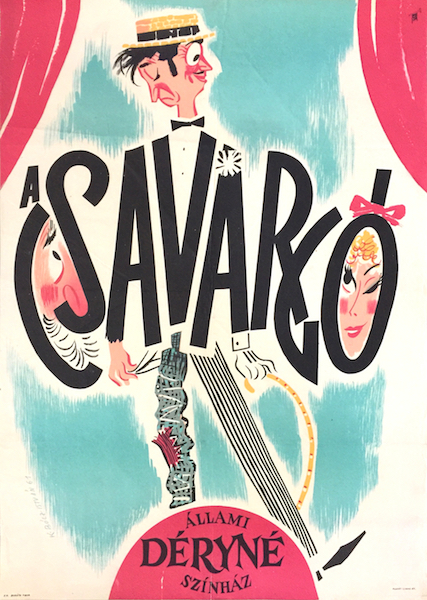 The Man Who Saw Death
Hungarian title:
A csavargó
Size:
A1 1 Sheet (cca. 84 x 59 cm)
Condition:
Fine, light wear and creasing.
Material:
Paper, offset lithography.
Price: US$1200
Description:
The Man Who Saw Death written by Victor Eftimiu (original title: Omul care a văzut moartea) is an original 1961 vintage Hungarian theatre poster designed by Istvan Kopeczi Bocz.
Victor Eftimiu (24 January 1889 – 27 November 1972) was a Romanian poet and playwright. He was a contributor to Sburătorul, a Romanian literary magazine. His works have been performed in the State Jewish Theater of Romania. Eftimiu was of Albanian origin. He was born in Boboshticë near Korçë, back then a village with mainly Slavic (Bulgarian) population in the Ottoman Empire. In 1913, he emigrated from Albania to Romania, where he found work as a theatre manager. He published several books of poetry, and wrote comedies and satirical pieces for the theatre. He also wrote a volume of Romanian fairy tales, and several children's books. He wrote also criticisms and articles for numerous magazines. (source: wikipedia.org)