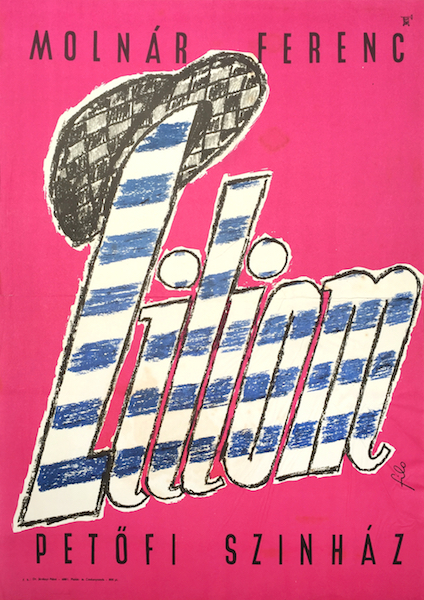 Ferenc Molnar: Liliom - Petofi Theatre
Hungarian title:
Molnár Ferenc: Liliom - Petőfi Színház
Size:
B2 (cca. 70 x 50 cm)
Condition:
Fine, light fold marks and wear, creasing.
Material:
Paper, offset lithography.
Price: US$800
Description:
Ferenc Molnar: Liliom at the Petofi Theatre is an original 1968 vintage Hungarian poster designed by Filo.
Liliom is a 1909 play by the Hungarian playwright Ferenc Molnar. It was well-known in its own right during the early to mid-20th century, but is best known today as the basis for the Rodgers and Hammerstein musical Carousel.
The play takes place partly in Budapest, Hungary, and partly in a waiting area just outside Heaven. The story concerns Liliom, a tough, cocky carousel barker who falls in love with Julie, a young woman who works as a maid. When both lose their jobs, Liliom begins mistreating Julie out of bitterness — even slapping her once — although he loves her. When she discovers she is pregnant, he is deliriously happy, but, unbeknownst to Julie, he agrees to participate with his friend Ficsur, a criminal, in a hold-up to obtain money to provide for the child. Liliom is unwilling to leave Julie and return to his jealous former employer, the carousel owner Mrs. Muskat, and feels that the robbery is his only way left to obtain financial security. The hold-up is a disaster, but Ficsur escapes, and Liliom kills himself to avoid capture. He is sent to a fiery place, presumably Purgatory. Sixteen years later, he is allowed to return to Earth for one day to do a good deed for his now teenage daughter, Louise, whom he has never met. If he succeeds, he will be allowed to enter Heaven. He fails in the attempt, and is presumably sent to Hell. The ending, though, focuses on Julie, who obviously remembers Liliom fondly.
A contrasting subplot involves Julie's best friend, Marie, and Wolf Beifeld, a rather pompous hotel porter who marries Marie and finally becomes the wealthy owner of the hotel at which he once worked. The two eventually have seven children, who never appear onstage in Molnár's play. There is also a carpenter in Liliom who is in unrequited love with Julie, and who, in contrast to Liliom, has a stable job.
Liliom was a failure in Hungary when it was staged there in 1909, but not when it was staged on Broadway in an English translation by Benjamin Glazer in 1921. The production starred Joseph Schildkraut (his role originally offered to John Barrymore), and Eva Le Gallienne, with supporting roles played by such actors as Dudley Digges and Helen Westley.
Ivor Novello starred as Liliom in 1926 in London, with Charles Laughton, in one of his first stage roles, as Ficsur. Schildkraut and Le Gallienne repeated their roles, and Sayre Crawley played the Magistrate in the first Broadway revival of the play, in 1932. (source: wikipedia.org)