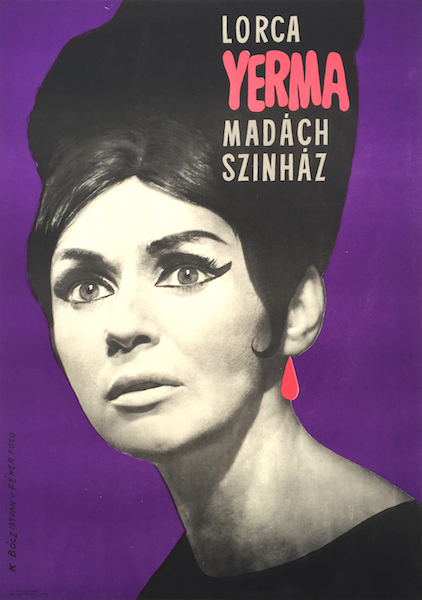 Lorca: Yerma - Madach Theatre
Hungarian title:
Lorca: Yerma - Madách Színház
Size:
B2 (cca. 70 x 50 cm)
Condition:
Fine, light fold marks and wear.
Material:
Paper, offset lithography.
Price: US$600
Description:
Lorca: Yerma at the Madach Theatre is an original 1965 vintage Hungarian poster designed by Istvan Kopeczi Bocz, starring Iren Psota.
Yerma (English: Barren) is a play by the Spanish dramatist Federico García Lorca. It was written in 1934 and first performed that same year. García Lorca describes the play as "a tragic poem." The play tells the story of a childless woman living in rural Spain. Her desperate desire for motherhood becomes an obsession that eventually drives her to commit a horrific crime. Because of the time she is living in, she is expected to bear children. When she cannot, she is forced into measures that those in her society would view as extreme.
Although critics speculate that Yerma kills her husband in the end because he is a frugal, economically driven man who has no desire to have children, the play is indeterminate on this issue. She kills him at a hermitage, a religious place with the possibility of fertility. However he has already shown no desire to have children, so there is no evidence that he would have changed his mind at the festival. (source: wikipedia.org)