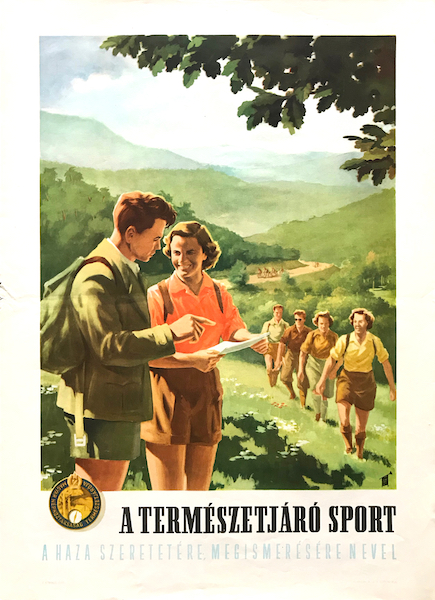 Hiking teaches you to love your homeland and get to know it
Hungarian title:
A természetjáró sport a haza szeretetére, megismerésére nevel
Size:
B2 (cca. 70 x 50 cm)
Condition:
Fine, light fold marks and wear, small tears.
Material:
Paper, offset lithography.
Price: US$800
Description:
Hiking teaches you to love your homeland and get to know it is a 1955 vintage Hungarian communist sport propaganda poster.
Typical socialist realist propaganda poster from the early 1950s.
Those years were the darkest ones of Communism. Sports life had several functions in the period. On one hand, ordinary people could get rid of some of the stress they had by living in a dictatory. On the other hand, sports life was considered to be an important ideologic issue by the socialist regime. Sports were connected to health, and the aim of the regime was to obtain healthy and strong workers who can produce well at work. What's more, they also get rid of the redundant energy they would spend on thinking and talking about political affairs. So sports life became strictly ruled and organised by movements, institutions and organisations led by the political party.
This poster was targeted to motivate the local population to do hiker sports. The badge of 'Hiker of People's Republic' can be seen in the left corner which was a title given from the political leadership to those who proved to be the best hikers - every sports achievement was also appreciated as a political achievement.
This poster is a perfect example of the propaganda which could connect sports life not only to the health, but to the heroic concept of the homeland, as well. This propaganda piece was aimed to create a moral issue out of the question of doing sports. This design was created to emphasize that while doing hiker sports, the population fulfil its obligation of being good and responsible socialist citizens, as they get to know their motherland, and thus they get to love it, too. Although today this idea is obviously naive and ludicrous (as hiking will not automaticly make one love living in their country), the early socialist regime tried to find a way to distract the population from the party's aggressive political activity in public and private sphere. Forced education of people to love their own country was indeed needed, when life was hard in the dictatory - however, it didn't help. It only resulted in a grotesque, pretended charming and cheerful atmosphere of the socialist realist propaganda with typical scenes, figures and messages. This piece shows happy female characters in the characteristicly boring, poor-fashioned clothing of the period on the right, walking in a bright green field, while another similar female figure is captured on the left, holding a paper in her hands and smiling at a male figure next to her. He appears as a hero of the nation, because he leads the group and shows the way, thus he educates others to love their homeland. Not surprisingly in case of socialist realist posters, this heroic role is possessed by a man who patronizes a group of women.
(Anita Pásztor)