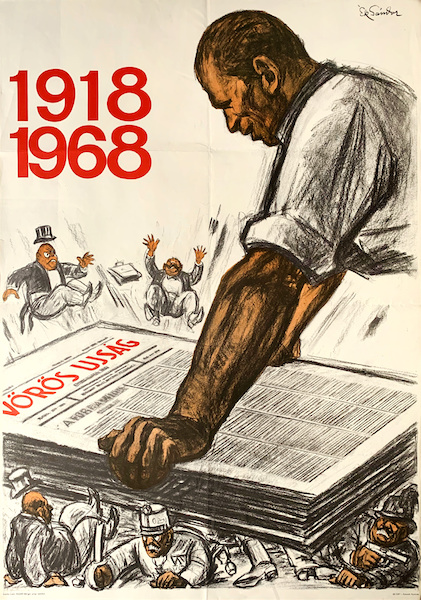 Red Journal
Hungarian title:
Vörös Újság
Size:
B1 (cca. 100 x 70 cm)
Condition:
Fine, light fold marks and wear, small tears.
Material:
Paper, offset lithography.
Price: US$1200
Description:
Red Journal 1918-1968 is a 1968 vintage Hungarian communist propaganda poster designed by Sandor Ek. The poster commemorates the 1918 revolution.
The poster applies a drawing-like design in an expressive character on a dominant white background. The designer used strong red letters for the important text to give it more emphasis. He also employed a typical robust male figure in a spesific portrayal, which evokes the atmosphere of the political poster art of the late 1910s.
The poster depicts the Red Journal which was a Communist newspaper. The first issue of the newspaper was published in 1918 and its main goal was to spread the comunist ideologies. The last paper was printed in 1919 August short after the fall of the Republic. The poster of Ék wants to raise the attention and express the need for publishing the Red Journal again, in 1968.