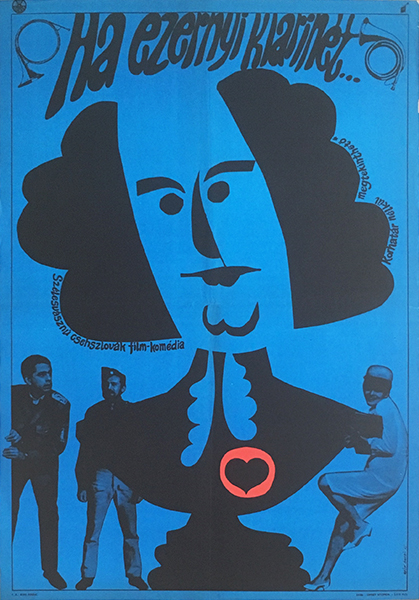 If a Thousand Clarinets
Hungarian title:
Ha ezernyi klarinét...
Size:
A1 1 Sheet (cca. 84 x 59 cm)
Condition:
Fine, light fold marks and wear, small tears.
Material:
Paper, intaglio.
Price: US$240
Description:
Poster with intensive colors and a decorative composition by Andras Mate. In the center, a large face appears, completely represented by black papercut pieces. Otherwise Máté also used photo stills from the movie. The poster advertises a Czechslovakian comedy film.
The movie starts like this: a military base. An awkward soldier. A statue of Bach. And suddenly all guns in the area change into music instruments. Great mystery is immediately found by TV station. And soon the military base becomes a stage for huge TV show. (source: imdb.com)