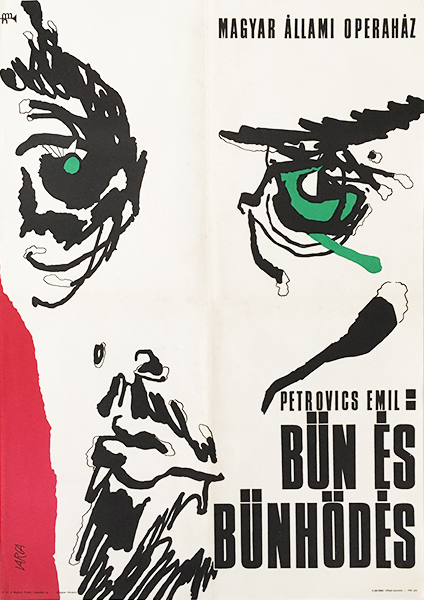 Crime and Punishment
Hungarian title:
Bűn és bűnhődés
Size:
B2 (cca. 50 x 70 cm)
Condition:
Fine, light fold marks and wear.
Material:
Paper, offset lithography.
Price: US$400
Description:
Poster for Petrovics Emil's opera in three acts. The libretto was written by Gyula Maár based on Dostoyevsky's classic novel. The piece premiered in 1969 in the State Opera House.
Emil Petrovics was born in Serbia (Yugoslavia), but he moved to Budapest, Hungary as a child and grew up as a Hungarian. He was awarded with the Kossuth-Prize twice. Beside operas, symphonic works and classical compositions, he wrote numerous music for movies. One of his most famous movie music was written for the Paul Street Boys.
He wrote only three operas including Crime and Punishment. Győző Varga created a decorative poster for the play, what, despite its simplicity, manages to capture the complex mental state of Raskolnikov, the protagonist of the story.