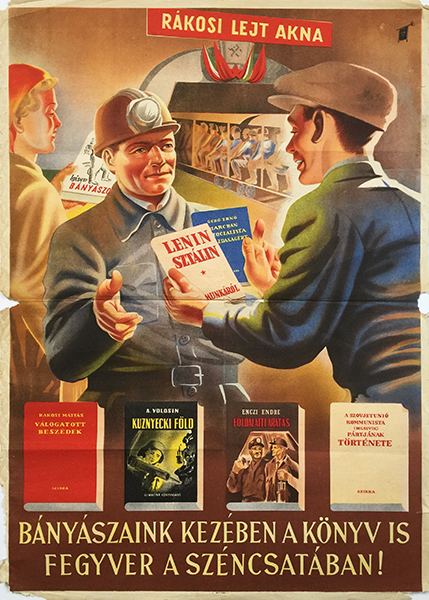 In the hands of our miners, the book is also a weapon! - Rakosi mine
Hungarian title:
Bányászaink kezében a könyv is fegyves a széncsatában! Rákosi lejt akna
Size:
A1 1 Sheet (cca. 59 x 84 cm)
Condition:
Very good, fold marks, paper loss.
Material:
Paper, offset lithography.
Price: US$1200
Description:
Socialist realist poster.
The coal battle was generated by the socialist government following World War II. It refers to a miner movement similar to work competition that was supposed to satisfy the economy's growing demand for coal. Within the frames of the coal battle the miners agreed to maximize the production of the Hungarian mines as a start of industrial production and to mend the electricity supply issues. However, due to the insufficient sustenance of the miners, the initial growth in production soon ceased. This lead to a tension as beside the bad economic state of the country the authorities also had to deal with the possibility of an upcoming miner's strike.
Propaganda posters like this one were supposed to motivate and educate the miner society by telling them that by acquiring the communist ideology they will have more power in their hands.The government tried various means to establish a stable supporter made up of workers, therefore they were keen on spreading the communist ideology in any format. This poster is a great example for the aggressive propaganda the communists conducted: in the time of an economic crisis, when miners were totally exploited, the government propaganda department put effort in popularizing the socialist ethos and spread books containing the speeches of communist leaders, instead of really supporting the miners by establishing humane working conditions.
The style of the poster is typical from the time between 1949 and 1956 when poster designers had to follow the obligatory communist-realist manner according to the aesthetics defined by the Soviet Union. On this composition the happy workers appear and in the background the workers are being take inside the Rákosi mine. Rákosi mine was located in Tatabánya and was originally called mine 15, but Mátyás Rákosi the ruler of Communist Hungary amended it.