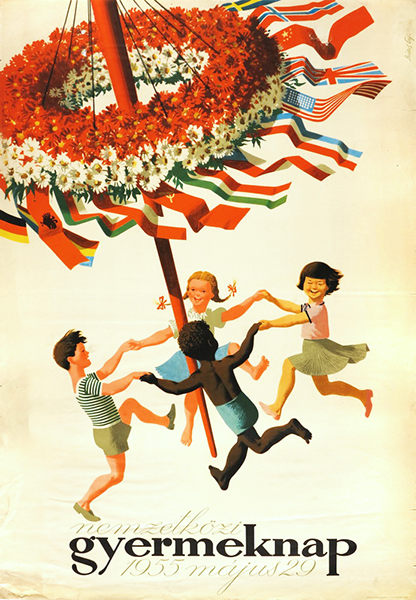 International Children's Day
Hungarian title:
Nemzetközi Gyermeknap
Size:
A1 1 Sheet (cca. 55 x 84 cm)
Condition:
Fine, light fold marks, creasing.
Material:
Paper, offset lithography.
Price: US$2400
Description:
Potser by Győző Szilas propagating the International Children's Day.
Although the event was titled International, the celebration was rather restricted to the Eastern Bloc. However, in 1954, the United Nation proclaimed a day for the children in but that was called Universal Children's Day and was celebrated on the 20th of November, while in Hungary it was (and still is) held on the last Sunday of May. Yet, the event was not created in Hungary, but in Turkey in 1925 and it became popular among the communist countries. The celebration's main goal is to raise awareness to the wellbeing of children. The socialist governments in the Eastern bloc made efforts to politicize the event, like they did all public holidays, hence the propaganda poster.
The poster is a rare and unique one from the socialist-realist period. Hungarian poster artists were forced to create in the obligatory socialist-realist style between 1949 and 1956, that was following the Soviet model. Due to the outstanding artistic talent of Hungarian poster artists, sometimes they managed to overcome the rules and create something unique, hence some posters from that period represent different aesthetics. These pieces, besides being decorative graphic designs, carry additional value as a symbol of resisting the authoritarian control practiced by politics over art.
The typical socialist realist posters were realistic, monumental, painted compositions what depicted strong and happy workers, women, children, gazinng to the peacful future that was being protected by the strong unity of socialist countries. However, this poster is playful, artistic and expressive. The children are from different origin that symbolizes the internationality of the event as do the flags. It is intersting that flags of not communist countries also appear - United Kingdom or the United States - although they were celebrating children's day in November as stated in the proclamation in 1954. This fact shows, that despite this work is aesthetically different from the expectations of the era, subjectwise it is a good example of the distorted reality that was projected on all platforms during the socialist era.
These little details make the poster a special historical and artistic relic.