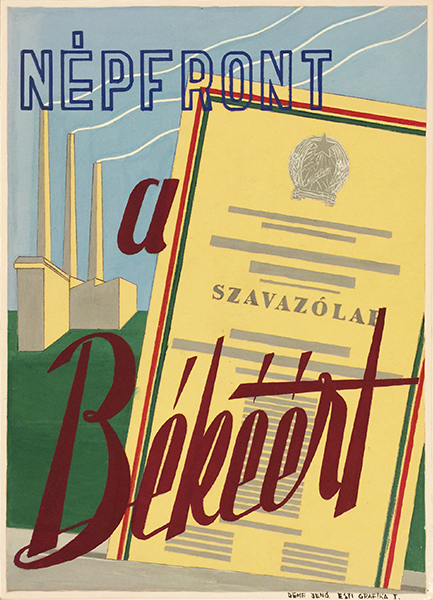 People's Front for peace
Hungarian title:
Népfront a békéért
Size:
Tram poster (cca. 17 x 24 cm)
Price: $360
Description:
People's Front for peace is a 1950s vintage Hungarian propaganda poster painted artwork designed by Jeno Deme.
People's Front was present all over the world during the 20th century. Everywhere it was established by the leaders of the working class and it was basically an organization fighting against capitalism. Some of the organisations are still existent today. Depending on a certain country it has different classifications. In communist countries they are regarded as political organizations whereas in some countries they are regarded as terrorist organizations or civilian organizations. In Hungary the People's Front was established in 1949 when it consisted several political parties, including communist, democrats, independents and radicals, too. However, the communists soon excluded the other parties and not surprisingly, the finally uniformly communist People's Front won the 1953 election.
This poster mockup was designed as an election propaganda piece for the People's Front in Hungary during the 1950s. It was created by Jenő Deme. There is hardly any information known about Deme, but we can find some nice artworks by him from the 1930s and the 1950s. They are modernist and decorative pieces, showing the influences of the most important tendencies of poster art of the periods, such as Art Deco. This piece above was created during the Socialist Realist era. We can find numerous propaganda posters from the period with the typically cheerful figures and idealistic scenes depicted. This artwork has a strong influence of Socialist Realism, although it is connected to the previous decades by its modernist look as well. The composition captures a factory building on a green landscape in the background and the ballot-paper in the foreground with a national tricoloured frame and coat of arms of the Hungarian People's Republic. The inscription reads: 'People's Front for peace'. While the displayed elements reflect the contemporary design, the geometrically simplified and stylised portrayal evokes the Modernist poster art of the 1930s and the political posters of the 1940s.