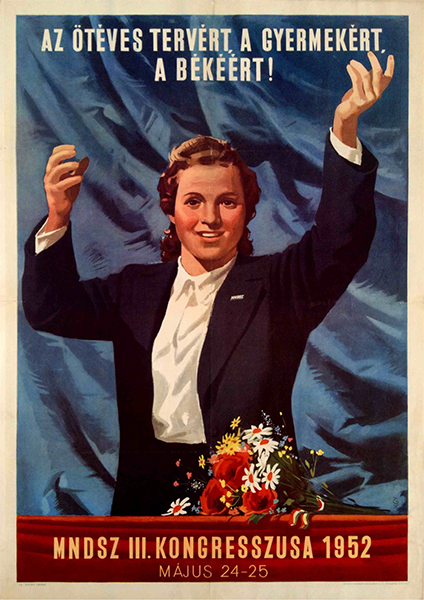 For the 5 Year Plan, for our children, for peace - The 3rd Congress of the Democratic Alliance of Hungarian Women
Hungarian title:
Az ötéves tervért, a gyermekért, a békéért - MNDSZ III. Kongresszusa
Size:
B1 (cca. 100 x 70 cm)
Condition:
Fine, fold marks, light wear, small tears.
Material:
Paper, offset lithography.
Price: US$1000
Description:
Typical socialist realist propaganda poster from 1952. The poster advertised the 3rd Congress of the MNDSZ (it was the "Democratic Alliance of Hungarian Women"). The motto of the congress can be seen in the poster, too: 'For the 5 year plan. For the Child. For Peace.'
The Democratic Alliance of Hungarian Women might sound like a group of the Hungarian feminist movement, it was definitely not, though. All kinds of women groups which aimed to make cultural changes in society was shot down by the government. The political leadership of the period nationalized the whole movement, before it could even really evolve. The party created an artificial organisation which pretended to serve social developing, but in reality it only served as a political recruitment service for the party. It was responsible for the political propaganda which was targeted at women in the period.
The propagandistic character is obvious in this poster: the rhetor stands on a stage, in front of a table with red cloth and a bunch of flowers on it. The speaker orates with great gestures and a bright smile on her face, in front of a theatre-like curtain. The female figure wears a quite masculine clothing and she has a modest hairdo, so she is represented in the typically expected way of the era - the official taste of the period was highly prudish. The motto of the event, visible in the poster, reflects how the political propaganda was mixed with emotional influence on individuals.