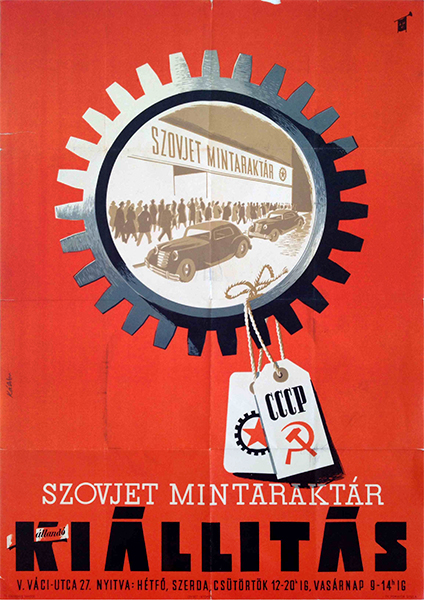 Soviet Model Warehouse Exhibition
Hungarian title:
Szovjet Mintaraktár Kiállítás
Size:
A1 1 Sheet (cca. 84 x 59 cm)
Condition:
Fine, fold marks and tears, some paper loss.
Material:
Paper, offset lithography.
Price: US$1000
Description:
Unusual communist propaganda poster for an exhibition of the Soviet Warehouse from 1952 designed by Laszlo Kaldor.
In the middle, the pavilion of Soviet goods are apparent in a gear wheel.
The poster was designed by László Káldor, and it presents the impact of modern graphic design, which was present in poster art between 1945 and 1949. Pure forms and clear typography make this a decorative piece. Ineterestingly, the style of the early 1950s, the socialist realism did not have an effect on this poster which happened very seldom in the beginning of socialist times in Hungary. However, the emblems of the Soviet state and socialism are there - the hammer and the sickle and the red star - what could not be left out as the poster was promoting an exhibition with soviet theme.