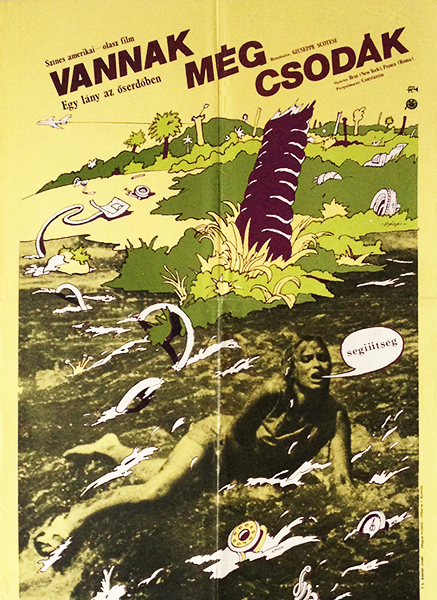 Miracles Still Happen
Hungarian title:
Vannak még csodák
Size:
A2 1/2 Sheet (cca. 59 x 42 cm)
Condition:
Fine, fold marks and wear.
Price: US$240
Description:
Miracles Still Happen (original title: I miracoli accadono ancora) is a 1974 film directed by Giuseppe Maria Scotese. It features the story of Juliane Diller, the sole survivor of 93 passengers and crew in the 24 December 1971, crash of LANSA Flight 508 in the Peruvian rainforest.
The designer of this poster was a very versatile artist applying many different techniques on his works. This particular one is a good example of the works designed in the spirit of trash culture. His movie posters often employ horror effects, monumental visions, and absurd details. These posters preserve the style of comics and animation, though with high artistic qualities. On this one, a photo of the main character of the film is placed in a cartoon scene of the tragedy. There is a speech bubble and she says: Help.