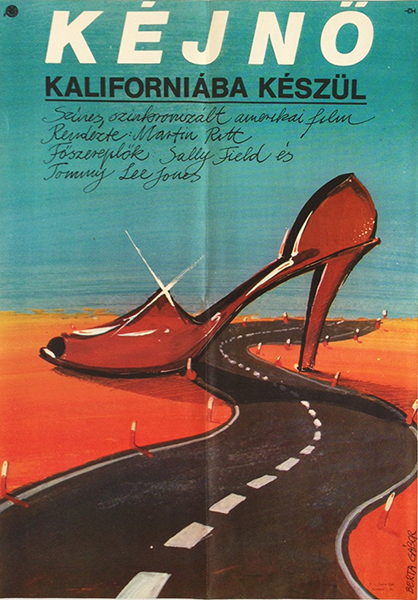 Back Roads
Hungarian title:
Kéjnő Kaliforniába készül
Size:
A2 1/2 Sheet (cca. 59 x 42 cm)
Condition:
Fine, fold marks, light wear.
Material:
Paper, offset lithography.
Price: US$240
Description:
Back Roads is an American romantic comedy and travel movie from 1981, starring Sally Field and Tommy Lee Jones. The story depicts Amy, a hooker and Elmore, an ex-boxer meet and run away together, as they start travelling to California with the hope of having a new, better life, but the trip makes them experience unexpected happenings as they are trying to get to their wished destination on back roads.
The Hungarian poster of the movie uses the main scene of the film, the endless highways of America, seeming to go through the middle of nowhere, as its background, while a huge-scaled, shiny, fiery red high-heel shoe can be seen on the poster, placed across the road. The impersonation of the object and the use of different scales in a realistic composition contributes to the humorous character of the poster.
Signed: 'Berta Gábor'