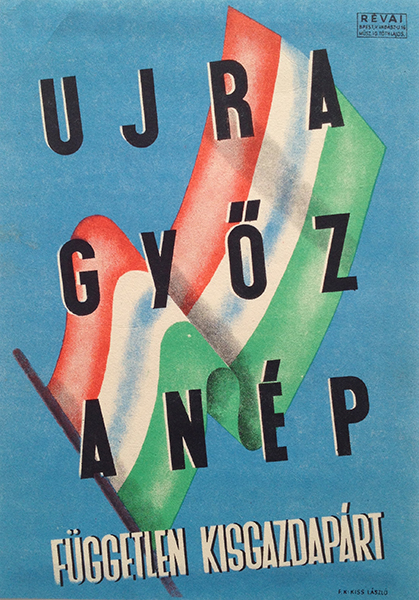 The nation will win again
Hungarian title:
Újra győz a nép - Független Kisgazdapárt
Size:
Tram poster (cca. 24 x 17 cm)
Condition:
Fine, light wear.
Material:
Paper, offset lithography.
Price: US$400
Description:
Most probably an early work by Filo, this poster was designed for the Independent Smallholders' Party, and it was used during the 1947 elections in Hungary. The party represented the middle-right in politics; their campaigns used Christian and national symbols. This work is also a simple composition, based on the motif of the national flag waving in the air. The message was also obvious, as the text reveals, the party aimed to target population through catching their national feelings.
The 1947 election was already a step into the direction of the dictatory. It was the first election when the Hungarian Communist Party got the most of the votes, but they couldn't win the absolute majority even though they cheated. Their tactics were successful, though, to break the unity of the Smallholders' Party. It was in the next election that the Hungarian Worker's Party could get absolute power, thus 1949 was the starting point of a new, dictatorial era.
This poster is a valuable memory of cruelly changing times of Hungarian history.