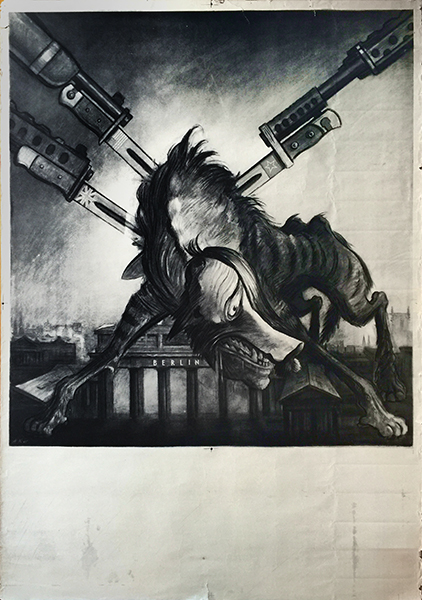 The fascist beast shall not escape
Hungarian title:
A fasiszta fenevad nem menekülhet
Size:
A0 2 Sheet (cca. 116 x 82 cm)
Condition:
Fine, small tears & light creasing along the border.
Material:
Paper, offset lithography.
Price: US$3200
Description:
Original Hungarian vintage propaganda poster from 1945 by Sándor Ék (Alex Keil).
Sándor Ék's powerful poster reminds us of the darkest period of Hungarian history, World War II. In the fall of 1944 Red Army troops entered the German-allied Hungary. On the 5 November they reached Budapest and following Stalin's order they started to besiege it. The city was of key importance to Hitler who felt that Vienna was safe as long as the Hungarian capital was under German influence, as the German ambassador's statement made it clear: "We don't care if Budapest falls 10 times, if we can keep Vienna with that."
The siege of Budapest was the third longest siege in World War II. and one of the bloodiest. On the 13th of February the Red Army arrived and took over, hence the the extreme rightist "Arrow Cross"government had to flee, leaving thousands and thousands of victims behind.
Sandor Ek's anti-fascist poster appeared on the streets of Budapest soon after the siege. The population of the city experienced the sudden change: shortly after the Germans' "resistance until the last breath" propaganda, the Russians have begun their socialist, anti-fascist campaign, suggesting that the Allied forces will not stop until the finish the job in Berlin.
There are two versions of this poster: one with text at the bottom, and this one, without it.