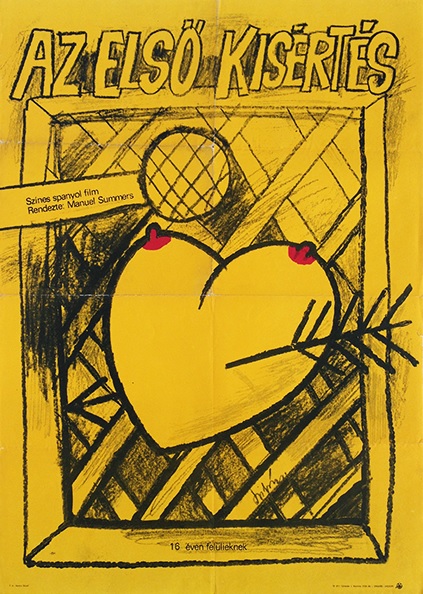 My First Sin
Hungarian title:
Az első kisértés plakát
Size:
A1 1 Sheet (cca. 84 x 59 cm)
Condition:
Fine, fold marks, light wear, small tears.
Material:
Paper, offset lithography.
Price: US$240
Description:
Original Hungarian vintage movie poster from 1979 by Nándor Szilvásy.
Drawing-like composition by Nándor Szilvásy for a 1977 Spanish movie, My First Sin (original title: Mi primer pecado) directed by Manuel Summers.
In this Spanish comedy, some lads, whose job is to assist their parish priest, plant a tape recorder in their priest's confessional box and record the exciting sexual revelations which take place there. They then take these recordings up to the belfry and listen to them with their pals while reading girlie magazines and masturbating. The juiciest confession comes from a go-go dancer, whom they are inspired to track down. After a number of humorous incidents expressive of the boys' juvenile lust and jealousy, Curro (Francisco Summers) displaces the dancer's married lover and becomes her boyfriend.