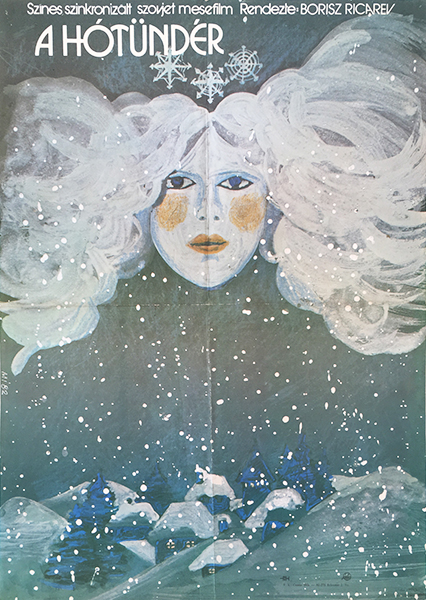 Granddaughter of Ice
Hungarian title:
A hótündér plakát
Size:
A2 1/2 Sheet (cca. 42 x 59 cm)
Condition:
Fine, fold marks and light wear.
Material:
Paper, offset lithography.
Price: US$120
Description:
Original Hungarian vintage movie poster from 1982 by Iván Méhely.
Beautiful composition for a 1980 Soviet fairy tale, 'Granddaughter of Ice' (original title: Ledyanaya vnuchka) directed by Boris Rytsarev.
Lovely story about Father Frost who has many snowflakes as grand-daughters. The film follows one, Lyuba, as she turns into a human, moves in with a queer old couple, falls in love with potter Gridya, is abducted by the (surprisingly subtle) duke to marry him, escapes to turn into snowflake again, shock-freezes a number of people, and finally turns back into human again in Gridya's arms. (source: imdb.com)