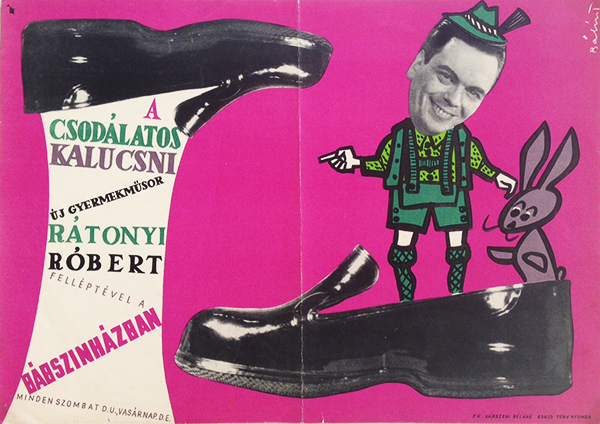 Galoshes of Fortune, The
Hungarian title:
A csodálatos kalucsni
Size:
Double Tram poster (cca. 34 x 24 cm)
Condition:
FIne, one vertical fold mark, creases along the border, some wear.
Material:
Paper, offset lithography.
Price: US$240
Description:
Hungarian tram poster in a double tram poster size for a puppetry titled The Galoshes of Fortune, based on the original fairy tale written by Andersen, designed by Endre Balint.
"»The Galoshes of Fortune« (Danish: Lykkens Kalosker) is a literary fairy tale by Hans Christian Andersen first published by C. A. Reitzel in Copenhagen, Denmark on 19 May 1838 with The True Soldier (one act verse play) and "That was Done by the Zombie" (poem) in Three Poetical Works.

Reitzel paid Andersen 40 rixdollars for the story. In the tale, Andersen continues to perfect his colloquial style. Andersen read the tale aloud in the late 1830s with his novel, Only a Fiddler.The tale irritated the young Danish philosopher, Søren Kierkegaard with its satirical portrait of a bird that babbles on endlessly in a philosophical vein."
(source: wikipedia.org)
The puppetry was on at the State Puppet Theatre in Budapest, and it was directed by István Deák.
The tram poster is a grotesque composition designed by László Bánki. As it was targeted at children, it used a funny character and a cartoon-like style. It is remarkable how the artist mixed different techniques in one montage, such as drawing, paper-cut and photo, showing the face of the main character of the theatrical piece, Róbert Rátonyi, who was a famous Hungarian actor, theatre director, publicist and comedian.