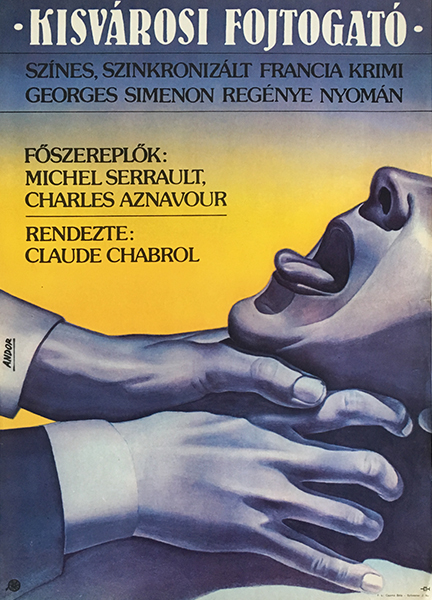 Hatter's Ghost, The
Hungarian title:
Kisvárosi fojtogató
Size:
A2 1/2 Sheet (cca. 42 x 59 cm)
Condition:
Fine, light fold marks and wear.
Material:
Paper, offset lithography.
Price: US$200
Description:
The Hatter's Ghost (French: "Les Fantômes du chapelier") is a 1982 French film directed by Claude Chabrol. It is based on the 1947 novel "Le Petit Tailleur et le Chapelier" by Georges Simenon. The film takes place in Brittany and was shot in the towns of Concarneau and Quimper. A hatter in a provincial town (Michel Serrault) leads the life of a respectable citizen but is in fact a serial murderer. The only person to suspect this is his neighbour the tailor (Charles Aznavour). After the hatter kills his own wife, he then kills six of her friends and prepares to murder a seventh when the intended victim dies naturally. As a substitute, he murders his favorite prostitute, which leads the police to him. (source: wikipedia.org).
The poster depicts the act of throttling from very close. The composition is arrangen in a way that the throttling hands and the neck and mouth of the victim is visible only. The poster is colourful as most movie posters of András Andor.