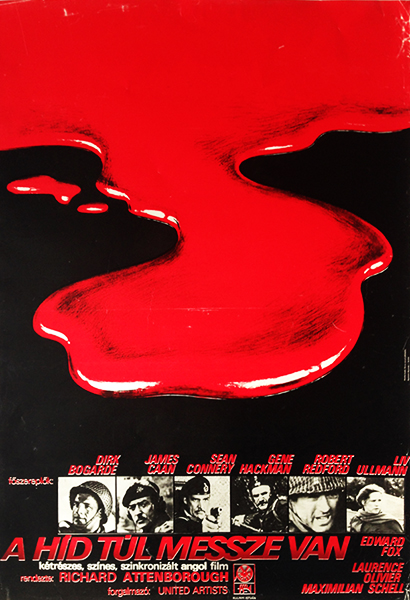 Bridge Too Far, A
Hungarian title:
A híd túl messze van
Size:
A1 1 Sheet (cca. 59 x 84 cm)
Condition:
Very good, one horizontal fold mark, creases and smaller tears along the border.
Material:
Paper, offset lithography.
Price: US$600
Description:
First release Hungarian poster for Richard Attenborough's famous epic war film starring Sean Connery, Gene Hackman, Robert Redford and Liv Ulmann. The film is based on the 1974 book of the same name by Cornelius Ryan.
The film tells the story of the failure of Operation Market Garden during World War II. The operation was intended to allow the Allies to break through German lines and seize several bridges in the occupied Netherlands, including one at Arnhem, with the main objective of outflanking German defences in order to end the war by Christmas of 1944. The name for the film comes from an unconfirmed comment attributed to British Lieutenant-General Frederick Browning, deputy commander of the First Allied Airborne Army, who told Field Marshal Bernard Montgomery, the operation's architect, before the operation: "I think we may be going a bridge too far."
The designer of the poster, István Kulinyi is active from the early 1970s. He works as an independent artist, creating installations and object designs and in the 1970s and 1980s he designed various cultural posters.