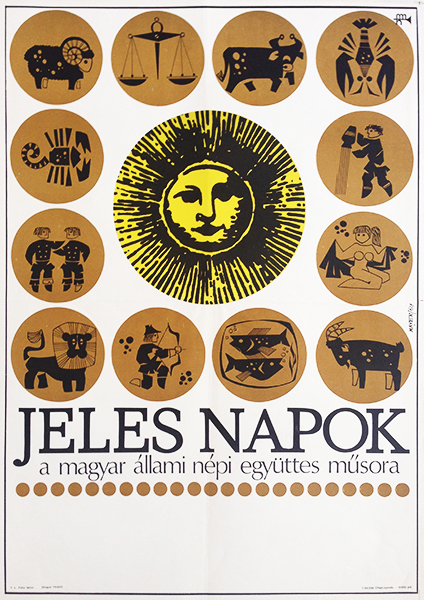 Illustrious days - Performance of the Hungarian State Folk Ensemble
Hungarian title:
Jeles napok - a Magyar Állami Népi Együttes műsora
Size:
B2 (cca. 50 x 70 cm)
Condition:
Fine, light fold marks and wear.
Material:
Paper, offset lithography.
Price: US$200
Description:
Poster for the Hungarian State Folk Ensemble's performance, Illustrious Days. The play presents different special traditions of various ethnicities connected to each month of the year by singing, music and dancing. The program received an award of excellence.
The poster is symbolic. In the middle of the composition there is the sun and around it, the symbols of the different star signs are apparent. The title of the performance is written with larger letters than the name of the dance group. At the bottom there is a blank space where the time and place of the event should be written.