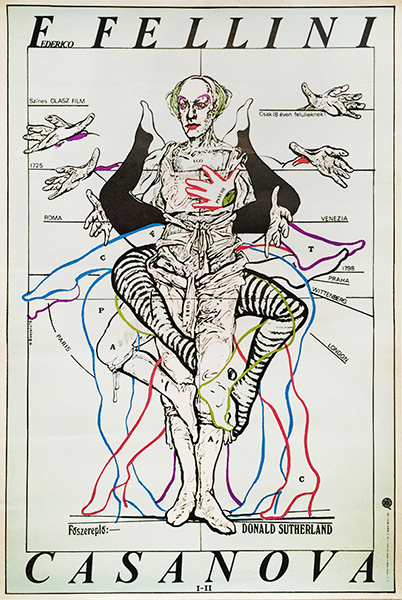 Casanova
Hungarian title:
Casanova
Size:
A1 1 Sheet (cca. 84 x 59 cm)
Condition:
Fine, light creasing.
Material:
Paper, offset lithography.
Price: US$3200
Description:
Casanova is a 1978 vintage Hungarian first release movie poster designed by Istvan Banyai.
Fellini's Casanova (Il Casanova di Federico Fellini) is a 1976 Italian film by director Federico Fellini, starring Donald Sutherland, adapted from the autobiography of Giacomo Casanova, the 18th century adventurer and writer. Shot entirely at the Cinecittà studios in Rome, the film won an Academy Award for Best Costume Design, with the Oscar going to Danilo Donati. The film portrays Casanova's life as a freakish journey into sexual abandonment. Any meaningful emotion or sensuality is eclipsed by increasingly strange situations. The narrative presents Casanova's adventures in a detached, methodical fashion, as the respect he yearns for is constantly undermined by more basic urges. (source: wikipedia.org)
This work of Istvan Banyai won the 1st prize on the yearly national poster competition in 1978. Giacomo Casanova was a famous philandere of the Rococo times who travelled all around Europe making a living as a future-teller, gold-maker, event organizer, etc. He'd written his autobiography in Dux which served as the base for Fellini's film. In the movie Fellini created a sensual setting where the main character's ambivalence lies in his image detemined by the roles he's playing to attain his lover targets and in his profound honesty what makes him enjoy sensuality as deep as possible. Interestingly the poster managed to create this atmosphere with its mere simplicity. The image resembles a dissection table analyzing and stripping all layers of phyisical love.
The main figure is clearly Donald Sutherland wearing the mask he wears in the movie. The legs embracing him from the background are legs from the different stations of Casanova's journey which are indicated by the names of the cities referring to each leg: Venice, Paris, Rome, London, Prague, etc. Ego and psyche is also written on Casanova's body which are the two words reflecting to Fellini's film which examines Casanova from these two aspects. Furthermore, the two words allude to Rococo, a time where science and spirituality equally formed the mindset of the people. This unique poster perfectly captures everything the movie intends to say. (source: wikipedia.org)