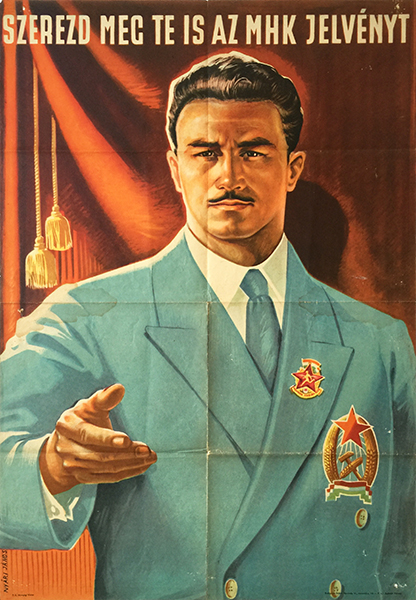 Get your MHK badge
Hungarian title:
Szerezd meg te is az MHK jelvényt
Size:
A1 1 Sheet (cca. 59 x 84 cm)
Condition:
Fine, fold marks, pinholes, small tears, minor paper loss.
Material:
Paper, offset lithography.
Price: US$2400
Description:
Original Hungarian vintage propaganda poster from 1952 by János Nyári.
The Red Army invaded and occupied Hungary in 1945 hence liberating the country from the previous Nazi occupation. However, the majority of Hungarians were relieved when World War II ended, the population was not utterly enthusiastic about the Soviets staying in the country. Despite several failures on the elections that followed the war, the Communist party took over in 1949 with an election fraud. From that year, up until 1956 the Soviet model was forced on every aspect of life, including the style and themes of posters. The themes propagated the soviet lifestyle, workstyle, the communist ideology, the Red Army, etc. The style of these pieces were realistic and monumental, depicting idealized characters.
This piece promotes the sport movement based on the Soviet model. MHK is the abbreviation for 'Munkára, harcra kész' that is 'Ready for work and fight'. The movement organized several activities and championships mostly related to athletics and hiking.