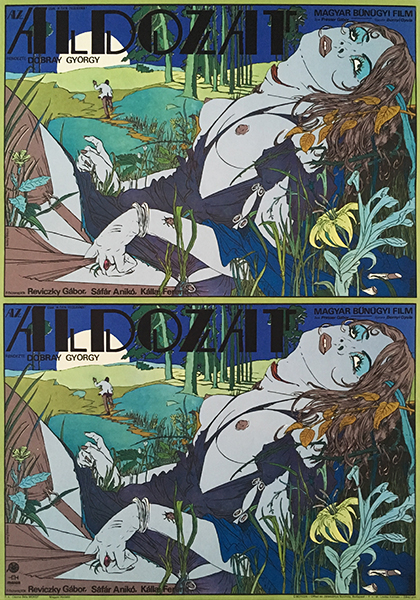 Victim, The
Hungarian title:
Az áldozat
Size:
A2 1/2 Sheet (cca. 59 x 42 cm)
Material:
Paper, offset lithography.
Price: US$240
Description:
THe Victim is a 1979 vintage Hungarian movie poster designed by Istvan Banyai.
Surrealistic drawn composition by István Bányai for a Hungarian movie directed by György Dobray. It stars Gábor Reviczky, Anikó Sáfára and Ferenc Kállai.
The Investigator, busy with processing the clues to a number of rapes and murders committed in the same way, tries to catch the murderer, that is to find the would-be victim first and then to identify the murderer before he could strike again. He would like the retired Old Pro, an ex-detective dealing with victimology to assist him, but he is turned down. The Investigator, however, finds the Girl by sheer accident. He falls in love with her, and follows her even when she is already brought under the Man's influence and control. He prevents the Man from killing the girl, but from that on he will be the victim - as it was expected from the very beginning. (source: mandarchiv.hu)