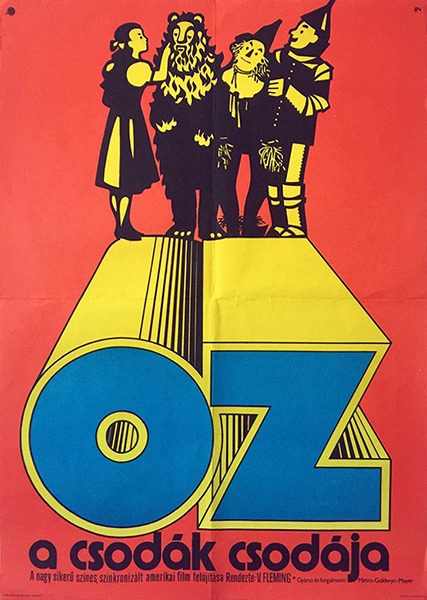 Wizard of Oz, The
Hungarian title:
Oz a csodák csodája
Size:
A1 1 Sheet (cca. 84 x 59 cm)
Condition:
Fine, light fold marks.
Material:
Paper, offset lithography.
Price: US$2400
Description:
Hungarian poster of the re-release of the famous movie, 'The Wizard of Oz'. The Wizard of Oz is a 1939 American musical comedy-drama fantasy film produced by Metro-Goldwyn-Mayer, and the most well-known and commercially successful adaptation based on the 1900 novel The Wonderful Wizard of Oz by L. Frank Baum. The film stars Judy Garland as Dorothy Gale.
The film starts in sepia-toned Kansas in the early 1900s. Dorothy Gale lives with her dog Toto on the farm of her Aunt Em and Uncle Henry. Dorothy and Toto get in trouble with a ruthless neighbor, Miss Almira Gulch, when Toto bites her. However, Dorothy's family and the farmhands are all too busy to pay attention to her. Miss Gulch arrives with permission from the sheriff to have Toto euthanized. He is taken away, but escapes and returns to Dorothy; she then decides to run away from home with Toto to escape Miss Gulch...
The contrast of vivid colours and the string typography make this poster a very decorative and eye-catching piece.