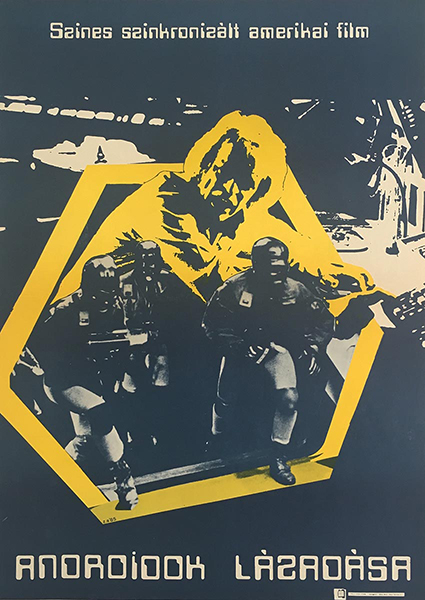 Description:
A strange doctor secretly experiments with androids on his space station. His assistant is Max, a curious android who wants to see the world and meet a girl. Criminals hide on their station and soon violence erupts.
Director: Aaron Lipstadt
Writers: James Reigle, Don Keith Opper (as Don Opper)
Stars: Klaus Kinski, Don Keith Opper, Brie Howard
(source: imdb.com)
The poster was printed by BKKM, the printing house of Kecskemet. The cinema in Kecskemet had its own printing house where they produced their own designs for movies. In most cases the designers are unknown since the majority of these works is unsigned. BKKM started at the end of the 1970s, early 1980s when many movies became available in Hungary which were banned before due to censorship. All of these posters were printed in A2 size. Most of the posters by BKKM are somewhat alike in terms of the composition, meaning that most of them are based on a photomontage and depict a scene or the characters from the movie.