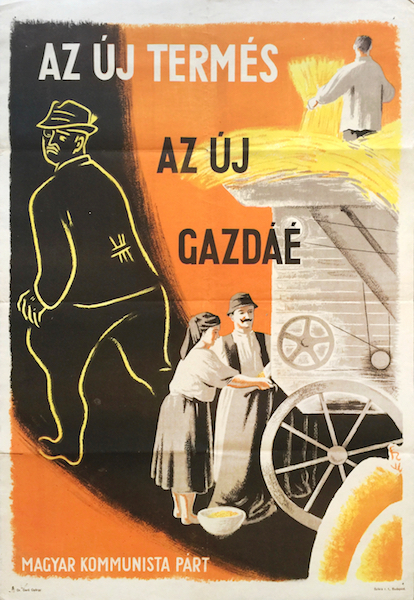 The new crop is owned by the new master - Hungarian Communist Party
Hungarian title:
Az új termés az új gazdáé - Magyar Kommunista Párt plakát
Size:
A1 1 Sheet (cca. 84 x 59 cm)
Condition:
Fine, light fold marks and wear, small tears and holes.
Material:
Paper, offset lithography.
Price: US$6000
Description:
The new crop is owned by the new master - Hungarian Communist Party is a 1945 vintage Hungarian political propaganda poster. It's purpose was to present the significance of the distribution of land and to bring political gain to the party for which, this has been a central goal for many years.
The Hungarian poster art of the years between 1945 and 1949 was very unique and exciting. Master and beginner posterists both had the ability to utilize what they have learnt in the in the late 1920s and the 1930s. However, these years of democracy did not last long, and neither did the poster art tendencies of the era. The determining subject in art at the time was political propaganda, horrors of war, the rebuilding of the city, the war prisoners, the responsibility of the sinners, the togetherness of the civilians, food and financial issues. Numerous important and beautiful posters were created during this period, out of which there are some that are truly exceptional, including this piece.
The 1945 land reform was ordered by the Temporary National Government on March 15, 1945. The poster was printed during the following weeks or months.
Szabad Nep, which was the daily newspaper of the Hungarian Communist Party, published the following article in their June 21 issue in 1945:
"The new crop is owned by the new master
The Minister of Agriculture's 5600/945. regulation settles the status of this year's crop harvested from lands that have been redeemed. According to the decree, the crop is owned by the new owner. The individual who has lost the land - or if the land has been cultivated by a leaseholder - the leaseholder is entitled to reimbursement for the economic work he has carried out; in exchange for seed, one, in exchange for plowing, half quintals worth, and in the case of other expenditures, 30 pengos per cadastral acres. For perennial crops, half of this year's yield is the fully reimbursement should be paid to the former owner or the lessee. For vineyards and orchars, the above amount shall be determined by the County Land Management Board. The amount has to be paid by the recipients of land after the harvest."