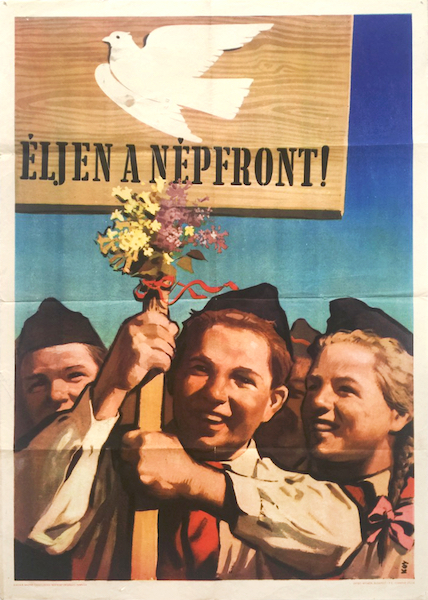 Long live the People's Front!
Hungarian title:
Éljen a Népfront!
Size:
A1 1 Sheet (cca. 84 x 59 cm)
Condition:
Fine, fold marks, wear, small tears, paper loss and discolouration along the borders and fold lines.
Material:
Paper, offset lithography.
Price: US$800
Description:
Long live the People's Front! is a 1953 Hungarian communist election poster election propaganda poster in the socialist realist style designed by Gyorgy Konecsni.
This propaganda poster is typical of the Socialist period and it represents well the aesthetic values of the time, it is a typical Socialist Realist composition. Monumental happy figures, young scouts in particular. They are carrying a wooden board which says 'Long live the People's Front'. Above the text a white dove symbolizes peace which was brough to Hungary by the Soviet army - according to the government of the time - as a closure of World War II.
The poster was created in 1953 when the election was held in Hungary. This election was a historically important one as Stalin had just died. Not surprisingly, the communist People's Front won the election with 98.2 %.
What makes this poster extra interesting is that there is a paper tag glued to its back which states that it was sent by the propaganda material distributor of the Hungarian Working People's Party - which was the name of the communist state party between 1948 and 1956 - to the Domestic Cotton Industry Company.
Publisher: Budapest, Magyar Függetlenségi Népfront Országos Tanácsa, 1953, Offset Nyomda Budapest (f.v. Pomayer Gyula)