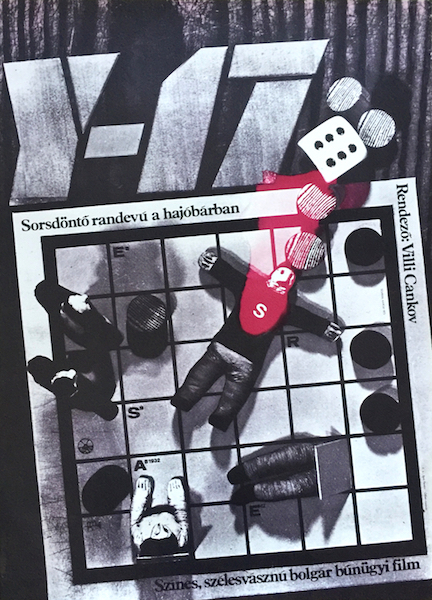 Y-17
Hungarian title:
Y-17
Size:
A1 1 Sheet (cca. 84 x 59 cm)
Condition:
Fine, light fold marks and wear.
Material:
Paper, offset lithography.
Price: US$400
Description:
Y-17 is a 1973 vintage Hungarian movie poster designed by Karoly Schmal.
Igrek 17 is a 1973 Bulgarian film.
Director: Vili Tzankov
Writers: Asen Georgiev, Ivan Ohridski
Stars: Ivan Kondov, Josef Bláha, Dorotea Toncheva
The Bulgarian intelligence service has information that the top agent Peron is to arrive in Bulgaria. The higher official of the counter intelligence Ivan with an alias Y 17 is to investigate. Peron has to meet his local contact, the former ship captain Rudnev. The young Mina is accommodated in Rudnev's home. Rudnev figures that she is counterintelligence and agrees to cooperate with the task force. Soon after, Peron meets Mina and an eccentric engineer, fired from the job. The young man is the deep undercover agent Y 117. Peron tests the man. He tells him that Mina is an agent of the Bulgarian counterintelligence, and gives him a gun to kill her. Y 117 shoots Mina but the bullet was a blank. After that Y 117 should leave the country with Peron.
(source: imdb.com)