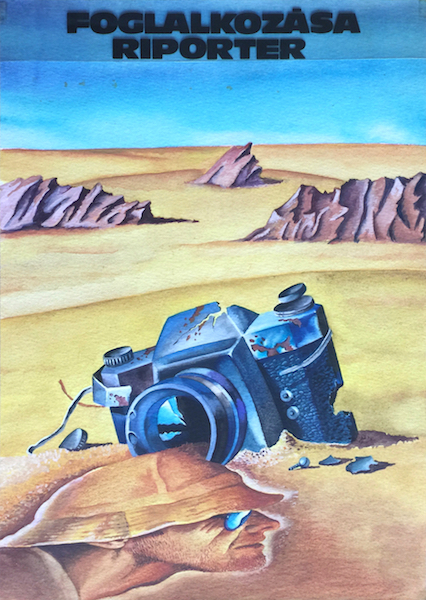 Passenger, The
Hungarian title:
Foglalkozása: riporter
Size:
A4 (cca. 29 x 21 cm)
Material:
Paint on cardboard.
Price: US$3000
Description:
The Passenger is a 1976 vintage Hungarian unused painted poster artwork made by Tibor Helenyi. The title text is added on a transparent plastic sheet.
THis fantastic painted movie poster artwork was not used for the Hungarian first release poster of the film, atlhough it is by far superior than the design that was selected.
The Passenger (Italian: Professione: reporter) is a 1975 drama art film directed by Michelangelo Antonioni. Written by Mark Peploe, Peter Wollen and Antonioni, the film is about an Anglo-American journalist, David Locke (Jack Nicholson) who assumes the identity of a dead businessman while working on a documentary in Chad, unaware that he is impersonating an arms dealer with connections to the rebels in the current civil war. Co-starring Maria Schneider, The Passenger was the final film in Antonioni's three-picture deal with producer Carlo Ponti and Metro-Goldwyn-Mayer, after Blow-up and Zabriskie Point, and competed for the Palme d'Or at the Cannes Film Festival. (source: wikipedia.org)