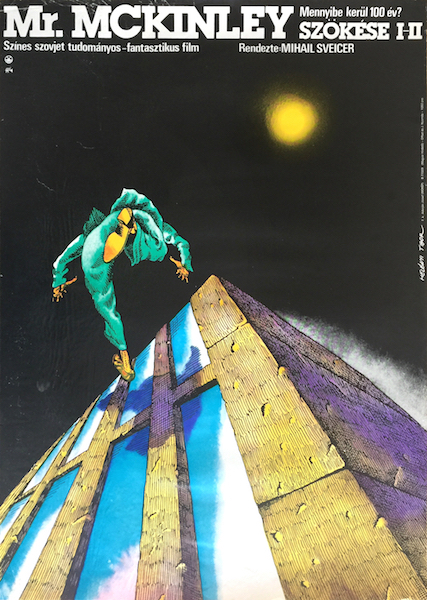 Escape of Mr. McKinley
Hungarian title:
Mr. Mckinley szökése
Size:
A1 1 Sheet (cca. 84 x 59 cm)
Condition:
Very good, creasing and small tears along the borders, the left half of the poster has been exposed to water.
Material:
Paper, offset lithography.
Price: US$1200
Description:
Escape of Mr. McKinley or The Flight of Mr. Mckinley is a 1977 vintage Hungarian sci-fi movie poster designed by Tibor Helenyi. This poster is one of the most iconic and rare works by Helenyi.
Begstvo mistera Mak-Kinli is a 1975 Soviet Russian science fiction film. A science fiction fantasy about a man who decides to escape into the future by the way of hibernation. When he wakes up, feeling lucky that the experiment worked out well, the staff of the hibernation company politely walks him to the outside were he finds a post atomic war desert.. He wakes up! Thank God it was just a dream! Or was it?
Director: Mikhail Shvejtser
Writers: Leonid Leonov (screenplay), Leonid Leonov (story)
Stars: Donatas Banionis, Zhanna Bolotova, Angelina Stepanova
(source: imdb.com)