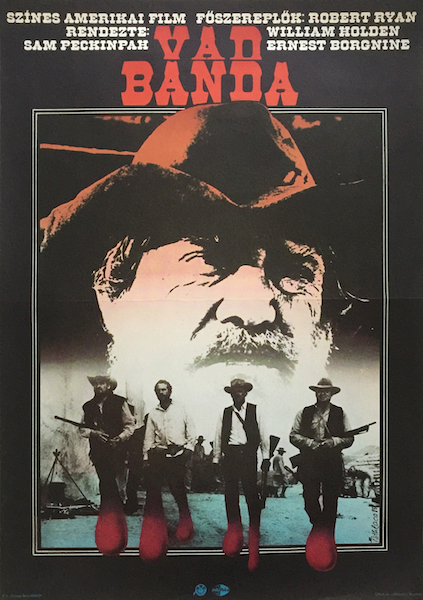 Description:
The Wild Bunch is a 1985 vintage Hungarian first release western movie poster deisgned by Laca Toth.
The Wild Bunch is a 1969 American epic Western film directed by Sam Peckinpah about an aging outlaw gang on the Mexico–United States border trying to adapt to the changing modern world of 1913. The film was controversial because of its graphic violence and its portrayal of crude men attempting to survive by any available means.
The screenplay was written by Peckinpah and Walon Green. It stars William Holden, Robert Ryan, Ernest Borgnine, Edmond O'Brien, Ben Johnson, and Warren Oates. It was filmed in Mexico, notably at the Hacienda Ciénaga del Carmen, deep in the desert between Torreón and Saltillo, Coahuila, and on the Rio Nazas. It was filmed in Technicolor and Panavision.
The Wild Bunch is noted for intricate, multi-angle, quick-cut editing using normal and slow motion images, a revolutionary cinema technique in 1969. The writing of Green, Peckinpah, and Roy N. Sickner was nominated for a best-screenplay Academy Award, and the music by Jerry Fielding was nominated for Best Original Score. Additionally, Peckinpah was nominated for an Outstanding Directorial Achievement award by the Directors Guild of America, and cinematographer Lucien Ballard won the National Society of Film Critics Award for Best Cinematography.
In 1999, the U.S. National Film Registry selected it for preservation in the Library of Congress as culturally, historically, and aesthetically significant. The film was ranked 80th in the American Film Institute's 100 best American films and the 69th most thrilling film. In 2008, the AFI listed 10 best films in 10 genres, ranking The Wild Bunch as the sixth-best Western. (wikipedia.org)