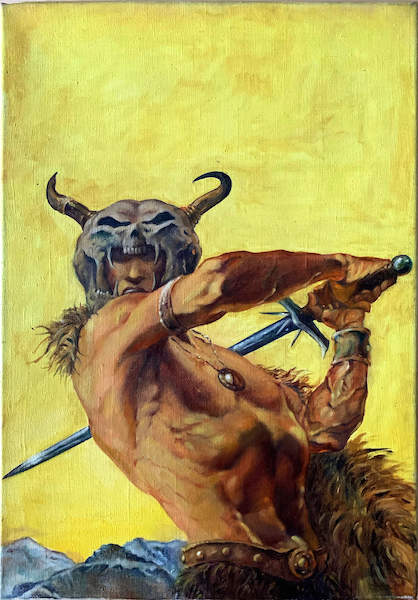 Highlander
Hungarian title:
Hegylakó
Material:
Paint on canvas.
Price: US$12000
Description:
Highlander is a 1989 vintage Hungarian movie poster maquette, which was used as the design of the Hungarian first release movie poster. This original hand painted artwork is from the estate of the artist.
Highlander is a 1986 British fantasy action-adventure film directed by Russell Mulcahy and based on a story by Gregory Widen. It stars Christopher Lambert, Roxanne Hart, Clancy Brown, and Sean Connery. The film chronicles the climax of an ages-old war between immortal warriors, depicted through interwoven past and present-day storylines.
Connor MacLeod (Christopher Lambert) is born in the Scottish Highlands in the 16th century. After reviving from a fatal wound, MacLeod is found by swordsman Ramírez (Sean Connery) who explains they and others were born immortal, invincible unless beheaded. Immortals wage a secret war, fighting each other until the last few remaining will meet at the Gathering to fight for the Prize. In 1985, the Gathering is finally happening in New York City and MacLeod must make sure the Prize is not won by his oldest enemy, the murderous Kurgan (Clancy Brown).
Highlander enjoyed little success on its initial theatrical release, grossing over $12 million worldwide against a production budget of $19 million, and received mixed reviews. Nevertheless, it became a cult film and inspired film sequels and television spin-offs. It is also known for songs recorded by the rock band Queen, with "Princes of the Universe" also used for the title sequence in the television series. The tagline, "There can be only one", has carried on into pop culture.
(soource: wikipedia.org)