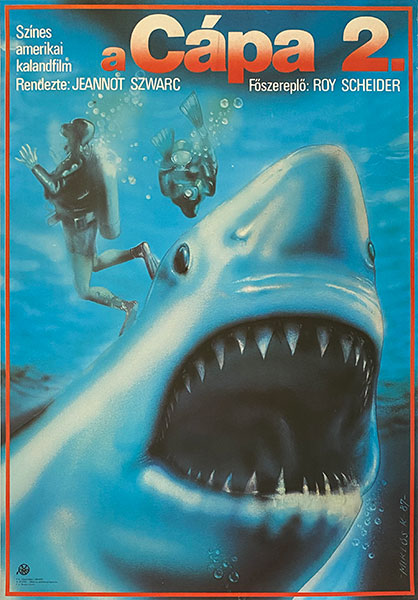 Jaws 2
Hungarian title:
A Cápa 2
Size:
A1 1 Sheet (cca. 84 x 59 cm)
Condition:
Fine, fold marks, light wear, small tears.
Material:
Paper, offset lithography.
Price: US$800
Description:
Jaws 2 is a 1987 original vintage Hungarian movie poster designed by Károly Miklós.
Jaws 2 is a 1978 horror/thriller film and the first sequel to Steven Spielberg's Jaws (1975), which was based on Peter Benchley's novel of the same name. Directed by Jeannot Szwarc, it stars Roy Scheider as Police Chief Martin Brody, who must deal with another great white shark terrorizing the waters of Amity Island, a fictional seaside resort. Jaws 2 was briefly the highest-grossing sequel in history until Rocky II was released in 1979. The film's tagline, "Just when you thought it was safe to go back in the water..." has become one of the most famous in film history and has been parodied and homaged several times. The film received mixed reviews and was followed by Jaws 3-D in 1983 and Jaws: The Revenge in 1987.(source: wikipedia.org)
This is a first Hungarian release poster.