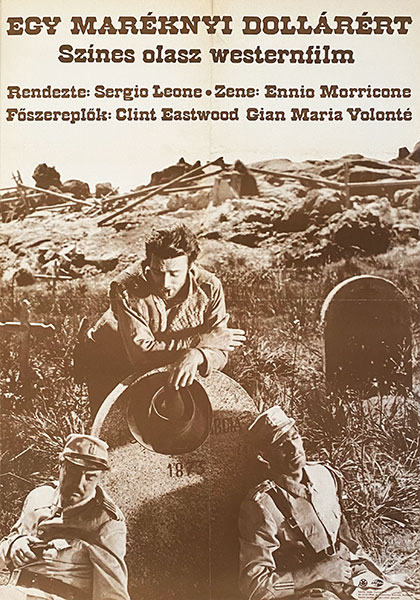 Description:
A Fistful of Dollars is a 1986 original vintage Hungarian movie poster. It is the first release poster of the movie in Hungary.
A Fistful of Dollars (original title: Per un pugno di dollari) a 1964 Spaghetti Western film directed by Sergio Leone and starring Clint Eastwood in his first leading role, alongside Gian Maria Volontè, Marianne Koch, Wolfgang Lukschy, Sieghardt Rupp, Jose Calvo, Antonio Prieto, and Joseph Egger.
The Man With No Name (Clint Eastwood) enters the Mexican village of San Miguel in the midst of a power struggle among the three Rojo brothers (Antonio Prieto, Benny Reeves, Sieghardt Rupp) and sheriff John Baxter (Wolfgang Lukschy). When a regiment of Mexican soldiers bearing gold intended to pay for new weapons is waylaid by the Rojo brothers, the stranger inserts himself into the middle of the long-simmering battle, selling false information to both sides for his own benefit.