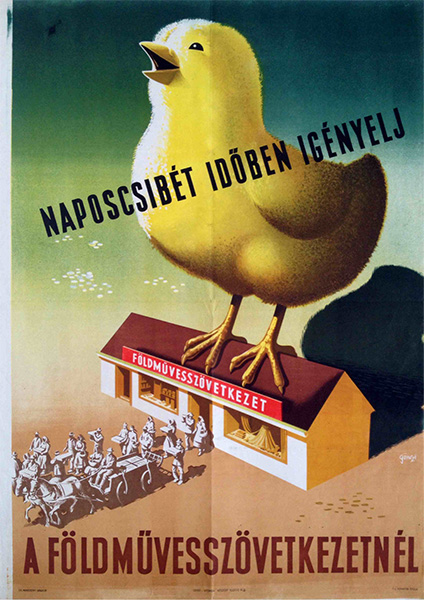 Request chicklings in time
Hungarian title:
Naposcsibét időben igényelj
Size:
B2 (cca. 50 x 70 cm)
Condition:
Fine, light fold marks and wear.
Material:
Paper, offset lithography.
Price: US$2000
Description:
Impressive agricultural poster from the 1950's.
The poster was created by Tibor Gönczi-Gebhardt. He could successfully combine the monumental poster style of the 1940's, with the new obligatory standards of Socialist Realism.
The poster was advocated to the farmers, it warned them to demand the chicklings from the agricultural cooperative. At the same time, it also has a humorous, quite childish character due to the lovely, huge scale chickling standing on the roof of the building of Farmers' Cooperative. Because of the difference of the scales, the chickling looks like a child whose toys are the humans appearing on the left side of the poster, fleeing out of the building. The poster with this infantile atmosphere was possibly aimed to target the viewer through its humour and sweet character.